Our product is formulated with 10 naturally derived oils that work together to deeply cleanse the skin and maintain moisture. Its clarifying properties also make it the perfect makeup remover. It reduces the appearance of fine lines and wrinkles and will leave your skin plump, radiant and incredibly renewed.
Reviews:
It is a perfect 10
This product is perfect for removing make up. It leaves you skin feeling amazing.
LOVE LOVE LOVE
I absolutely love this oil cleanser. I have oily skin and am prone to acne. So I use the oil cleanser first and then go in with my daily facial cleanser. Let me tell you, my skin has been reaping the benefits. The castor oil is the key ingredient for me. I cannot wait until my products arrive so that I can reuse. Perfect cleanser for the summer months as well – glow on 1000!!! 
The Right Way to Cleanse!
I can honestly say that I was a little hesitant to start washing my face with an oil cleanser as I have naturally oily skin. But, my God! After using this oil for consistently months at a time, I can honestly say that my oil production has virtually taken a complete halt! Who would've known that washing your face with healthy oils would stop the over production of oil to your skin! I wish someone would have told me about this cleansing method years ago! This is certainly a must, and it even removes even the hardest makeup in a flash! I can certainly say that this cleanser is part of the reason why I am confident enough to go out without makeup on. Love it!!
Magic potion!
My favorite product, hands down. The thought of using an "oil" cleanser seemed crazy to me. When I tried this product I realized I had been doing it wrong my whole life. Game changer!! My skin is clean, soft, supple, dewy and glowing. It's the favorite part of my morning and evening ritual and I recommend it to all my customers and friends. My skin has never looked better.
AMAZING!
This the best makeup remover and best way to start my double cleanse. It smells amazing and works so good! It gently removes all impurities and leaves my skin glowing.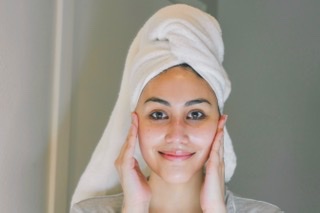 For starters I have really dry skin and I absolutely love oil cleansers this is one is a amazing it makes your skin really smooth and soft and it's also smells amazing it feels like your getting facial when your putting in on your skin
I love washing my face with this cleanser. It feels so relaxing and refreshing! It smells great and leaves my skin really soft and moisturized. I was amazed at how clean my skin felt after using it my first time.
Love How Skin Feels
You would think using an oil cleanser would leave somewhat of an oil residue but it doesn't. Leaves skin feel soft and light.